Originally Published Feb 24, 2023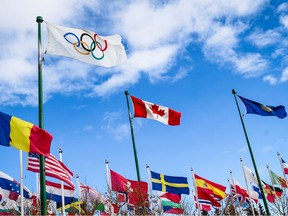 In Calgary's Olympic journey, it is important to reflect on where we came from.
When Frank King boldly put forward the motion to pursue an Olympic bid in late 1979, it's essential to remember what Calgary had to offer at the time. The region had three local ski resorts in the mountains, with only Norquay having hosted a World Cup in 1972. We could hold hockey tournaments in the Stampede Corral, but not at an international level. We had hosted Skate Canada events in figure skating. We could stage national events in cross-country.
And precious little else. No Flames. Very few indoor gyms.
Few could imagine that four decades later, the winter of 2018-19 would be the busiest international sport year on record for Calgary and region. Sixteen World Cup events were confirmed. Canadian teams in 11 winter sports made use of the legacy facilities of the 1988 Games, plus newer training and competition venues. Paralympians from the five core sports are fully integrated into programming.
Five national sport organizations (NSOs) now call Calgary or Canmore home. The first to move was Alpine Canada, followed by Hockey Canada, Ski Jumping/Nordic Combined Canada, Cross Country Canada and Biathlon Canada. Executive leadership, technical leaders and sport specialists populate the head offices.
The Canmore Nordic Centre, Olympic Oval, Canada Olympic Park and multiple ski resorts — including Lake Louise, Panorama, Norquay and Nakiska — hum with activity, filled with athletes of all levels, from aspiring Olympians/Paralympians to recreational enthusiasts and families.
The Canadian Sport Institute based at Canada Olympic Park and a satellite facility at the Canmore Nordic Centre is now Canada's largest, serving 580 Olympic and Paralympic athletes, with 173 representing Canada at the Beijing Winter Games of 2022 and Tokyo Summer Games of 2021. World-leading sport services are provided in coaching, nutrition, medical, physiotherapy, monitoring, teaching and community outreach — professionals recruited from Calgary and around the world.
The Human Performance Lab at the University of Calgary is considered one of the leading centres of high-performance sport in the world, with a roster of leading academics who have chosen Canada focusing on biomechanics, high-altitude training, medical research and guiding Canada's high-performance programs.
In the broader Calgary and Canmore communities, coaches, physiotherapists, leading professionals in sports medicine, and sport practitioners in all aspects of sport — from recreational to development and elite — populate our hospitals, recreational centres and sport venues, providing our community an incredible access to sport knowledge.
How much sport infrastructure existed in Calgary in 1980 when the Olympic bid was a dream? Almost nothing. And what did exist in alpine, hockey and figure skating in 1980 was primarily regional.
My active years with the Canadian Alpine Ski Team were from 1974 to 1983. Facilities for physical training and on-snow training and competition existed, but were basic and certainly not world-class. Physical training in the off-snow months were mostly field work — outside — on the University of Calgary campus. I could access a grimy, quite stinky, free-weight training room in the basement of the phys-ed building.
On-snow, we did all of our training in Europe or in the southern hemisphere, as there was limited snow-making facilities and few proper training venues at our existing ski resorts. Canada did have a core capability to run events, but limited experience at the major international level.
I competed against programs based in Europe that could access glacier venues for summer, national training centres for physical training and monitoring, and multiple winter venues. Fortunately, we were able to access many of these locations through the generosity of other nations but we felt the sting of not only a lack of facilities at home, but also the fact we could not compete in Canada at a World Cup level.
The same was true in the other sports. No Flames. No ISU Grand Prix. No World Cup events other than in alpine.
Winning the 1988 Olympic bid was the watershed moment. Now, venues and facilities were required in all the Olympic sports. Staffing to operate was essential. Volunteers needed to be trained for events. Officials needed to be trained and certified to run pre-Olympic events and support international officials at the Games.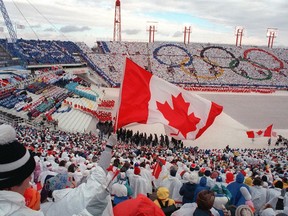 Building this legacy took time. The 1988 Games stimulated the basis for building necessary sport infrastructure. With the venues, the rest could follow.
Sport has an enormous web of human resources that rolls into place, not just to support athletes but to run events, organize event logistics, administer budgets, and oversee medical and technical aspects. Officials need to be trained. Volunteers need to be trained. The ratio of support to the number of athletes in a competition is typically 100:1.
This was Calgary's secret weapon: our volunteer ethic.
This is a tremendous legacy, one we rarely speak of in Canada, yet it is widely valued in the world of international sport. Our volunteers and officials have served as the backbone of Canadian sport for more than 35 years. They are key recruits for the International Sport Federations of Olympic, Paralympic and World Cup competition in all sports. Hundreds of Canadians that came to Calgary earned their certification and continue to serve, regularly, throughout the world.
And then, there is training. Our region has become well-known for reliable delivery of pre-season training in alpine, cross-country, biathlon and speedskating. The draw of international and national athletes to our region has spawned an industry that has grown beyond Nakiska, the Olympic Oval and Canmore Nordic Centre to encompass Panorama, Lake Louise, Norquay and Castle Mountain. The pre-season revenues from one of these venues over the four weeks of operation before opening to the general public draw in excess of $1.5 million per season — and is growing.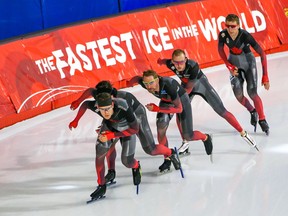 While not on the scale of the oilpatch, the sport sector has grown from nearly zero — no employees at a national level and few events in 1980 — to a thriving industry populated by highly trained professionals and athletes that annually brings more than $400 million a year into our economy.
From a tourism perspective, with respect to the cross-country or alpine World Cup events, the worldwide exposure is staggering. The FIS Alpine Ski World Cup at Lake Louise reaches an audience in excess of 200 million for the six events. Cross-country's audience is similar, biathlon's even larger. Calgary and region is well-known and valued throughout the winter sporting world, thanks to our annual events.
Now, 35 years after the '88 Games, we are at a crossroads. The referendum of 2018 was clear.
While I'm disappointed we chose not to embark on a new Games journey, I argue we do not need the Olympics and Paralympics to sustain and continue to build sport in Calgary.
We need our politicians at every level — municipal, provincial and federal — to recognize that sport goes on, every day, year-round, supported by sponsors, donors, families and substantial support from TV and marketing rights for the broadcast of major events run in our community. We have an enormous, internationally respected and vibrant sport sector that lives, works and competes in our region. We have thousands of dedicated volunteers and officials who are highly engaged every year in sport. We are respected hosts of multiple annual World Cup events. We stage hundreds of lower level sport events at multiple venues throughout our region — Continental Cup, international sanctioned events, development events — for hundreds of thousands of development and recreational athletes in our winter and summer sport community.
Sport can be an integral part of the economic goals of our province. Alberta's 10-year strategy aspires to double tourism receipts to $20 billion by 2030. A healthy sport sector can contribute significantly.
And to our sport community: We don't need an Olympic/Paralympic bid to galvanize our planning and vision. It is time for sport in our city and our region to sit together, organize one voice to advocate to our province and to speak for the interests of the region — to articulate a vision of where we want to see sport in 2030 and beyond.
There are multiple messages that are critically important to share, and an independent voice that brings together the venue operators, the sport organizations, the service providers and the sport community can objectively share the vision.
It is a message of how we maintain and enhance our existing sport infrastructure without relying on the Games, and to carry that message of the importance of events — at all levels — to our governments and to the community at large. The messages from athletes, coaches and the sport services community are vital. It's key to articulate what it means to have elite athletes living next door, how this inspires next generations, and how this benefits the community at large with better medical services, recreational facilities and cost-effective access to sport.
Let's borrow from the late Frank King. Now is the time to be bold. Stick up our hand and call for an initiative that can act as a new catalyst, to energize our sport community to examine how we renew and how we continue the important job of lifting Canadian athletes to do our community and nation proud.
Ken Read is a long-time sports leader in Canada, alpine ski racer, Olympian and five-time World Cup winner.